By
Erin Duffy Osswald
We set about our work in February of last year and miraculously produced a cookbook in ten months time. Never having written (or published) a cookbook we entered the process fueled on ambition, carefully calculated risks and blind faith that we would somehow pull this off. With absolutely no budget to speak of we knew that in order for this to work we were going to have to employ all the guerilla marketing techniques we knew or could dream up. Ultimately the cookbook project (which grew into a full fledged business) was founded and guided on principles of lean startup methodology. Read on to see exactly which tactics  and strategies we used online to succeed.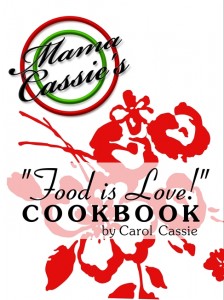 Pixel Lab published a book recently. Maybe you've heard of it? The Mama Cassie's "Food is Love!" Cookbook. Over the years we've developed a ritual upon the completion of any job to draw up a list of what we put into and learned from the project. We compare that to our original estimates and in the process hone our bidding practice. When we sat down to make a quick list of all the steps that went into the production of this cookbook project we wound up with a three page flow chart and a slight headache. Putting it all into perspective illustrates the magnitude of such an undertaking, and that we are fearless, or a maybe a touch insane, perhaps all of the above. Whatever the case, the process was a labor of love which is a theme that is central to most Mama Cassie's ventures and unites our cookbook rather elegantly with the restaurant,  its predecessor.
In 2008 I made an important discovery, Carol Cassie aka "Mama Cassie" had a small collection of a few of her beloved recipes housed in a little orange binder which she used when baking her popular cakes. If she had dessert recipes written down then surely, somehow, I could convince her to write the rest of her recipes, right? Knowing Carol as I do, one thing was certain I would have to wait for just the right opportunity to propose my plan. I wanted to write and publish a cookbook filled with recipes from Mama Cassie's Italian Ristorante, four years later the opportunity to ask arose and much to the delight of many people she agreed to the cookbook project.
Having grown up in Carol's kitchen at home, as well as in the restaurant kitchen, and having the distinct pleasure of being one of Carol's honorary daughters combined rather seamlessly with my advantageous position of c0-owning a  boutique digital agency. I knew I was uniquely qualified to take on this project and once I proposed the idea, Carol knew it too. It wasn't going to be easy, she had always cooked from memory and apart from the dessert recipe binder, the only recipes that had ever been written down were in industrial restaurant size batches and did not include any seasoning quantities. Carol was rightfully very protective of her recipes at the restaurant, all of the staff knew not to even bother asking when customers inquired about getting a recipe for this or that. I assured her that together with Pixel Lab, we could handle the task. I asked her to take some time to think about it, but I knew she had already decided by the time our meeting was over that day. All these facts aside, there was another motivating factor for us working together that revealed itself slowly and can best be described as a living tribute to those we have loved and lost in our particular family.
Once I had convinced Carol that if there ever was going to be a Mama Cassie's cookbook this was the time and place to do it, we began by developing a healthy social media presence simultaneously on Facebook and through subscriptions to our blog. Mama Cassie's Ristorante may have closed fifteen years ago, but the memories of Carol's amazing food and the most delightful gathering place in Great Falls remain very vivid to the community. The immediate response to the news about our cookbook project on our social media networks was incredible. People were as thrilled about our project as they were to have an online forum where they could reminisce and share some of their favorite stories about Mama Cassie's. We had reignited the brand and reestablished an enormous customer base.  All of this feedback was very encouraging as we undertook the task of actually producing the cookbook.
The test cooking process began in March which happens to also be National Sauce Month. Where else to begin but to tackle Mama's epic sauces? The first of dozens of cooking session spanned two days and included the help of Carol's oldest son, Adam. We were fortunate enough to also be joined by two other Mama Cassie's veteran employees, Sera Jupka and James Waddell. The marinara sauce was nailed on first attempt which emboldened us to follow up with Alfredo and Gorgonzola sauce. The cream sauces failed utterly, they just weren't right. It took us two more attempts and too many calories to count before we figured out what we were doing wrong. Those first two days we tested Chicken Parmesan, Italian bread, Cinn Buns (never did get those right), Scott's Cake, Creamy Italian dressing, Russian dressing and Spinach Salad. After our first splendid tasting dinner we were completely saturated on every level. The enormity of the project came into sharp focus and for the first time we felt the weight of what we had put in motion, literally and figuratively!
Intense cooking sessions did not abate during the roughly six months spent testing and writing every recipe ever made at Mama Cassie's, as well as new ones we all wanted to include in the book. Carol visited Italy in April and that trip served as a big inspiration for the epilogue of the cookbook which was created to manage the overflow of recipes coming out of our test kitchen. There is at least another cookbook of desserts, not to mention half of another regular cookbook completed full of recipes that we created during our testing process! We were getting carried away and loving it, but it became clear that if we were ever going to finish the book, we had to put a lid on the experiments. Also, the intensity of the process was getting dangerously close to wearing us all out. A typical session included testing an average of ten recipes, styling and photographing food, hosting a tasting dinner, evaluating the cooking and transcribing all of the days work into a draft recipe. About midway through testing the recipes we could see there was a limit to our  ability to sustain such demanding work. We outpaced the typical mid-cycle doldrums just in time to switch gears and take on the exciting challenge of funding the printing and distribution of our project.
We knew about crowd funding platforms like Kickstarter and had been looking for the right project to experiment with it. On the surface the cookbook looked like it could be the one, but I was less sure about how we might utilize online crowd funding  in a geographical location where the world wide web is still considered a little bit fancy. There's a joke about our humble little city of Great Falls, Montana that I heard once about an airline pilot advising the cabin upon landing in the 'Electric City' to fasten their seat belts, put their chairs in the upright position and set their watches back twenty years. It's funny because it's true…

Our intention going into this endeavor was to utilize Kickstarter as a pre-order system. We had very effectively established a thriving and engaged fan base on social media channels. Facebook in particular has served as our best connection to our customers. They love having a direct line to Mama Cassie, but the truth is Carol probably loves hearing from them even more! It was this level of devotion to the brand that made the midnight oil burn just a little easier during the final months of completing the cookbook. We were making great connections on Facebook, but we were unsure if those connections would automatically convert to Kickstarter backers. We knew we were going to need to educate our customer base about Kickstarter and we knew we could entice people with the promise of tasty treats from Mama Cassie's so we approached good friend and businessman, Jeff Platisha and asked if we could host an event in his beautiful new showroom at Carpet One Contract Flooring in Great Falls.
Rallying several volunteers we baked dozens of Mama Cassie's cakes and prepared for the kickoff event while simultaneously crafting our Kickstarter campaign and reward incentives.  We put together some great packages with the help of Sterling Embroidery including lovely butchers aprons, t-shirts and tote bags with the distinctive Mama Cassie's logo. In between filming and editing the video for our project we held interviews with the Tribune and filmed story segments for KRTV. Click here to see the story. The main purpose of our event was education and the local press did a fantastic job helping us get the message out about Kickstarter project and our kickoff event. Finalizing all of the details and making an appearance on Montana This Morning with the lovely Erin Schermele all blurs into one very busy and bliss filled week.
The Kickoff event was a rousing success and such a delight to see so many old friends and customers. In the 14 years since the restaurant has been closed this community has felt its absence strongly. People were genuinely thrilled to be sampling their favorite cakes and saying hello to Carol again. A spoon full of sugar helped the technology medicine go down and we had four computer stations manned by friends and family to walk people through the process of backing our project on Kickstarter. I have to say I was really impressed with Great Falls, Montana for rising to the occasion! Fundraising started with a bang and gained serious momentum. Fascinatingly enough, our Kickstarter campaign coincided with a huge amount of national coverage for the crowd funding platform. We enjoyed the benefit of being a popular project while Kickstarter was on the front cover of TIME magazine and profiled on NPR.
Within 48 hours of launching our project we met our initial funding goal of $12,000.00. Now we really did have the green light to finish the project. I never doubted that we would make our goal, I just never could have anticipated how quickly we did it. I had created a strategy for each week of our month long campaign to keep life in it while extending our reach. The only eventuality I did not plan for was making our goal basically overnight. So we set a new goal and decided we were going to double our money. There were clearly a lot of people hungry for this cookbook. Demand was huge.
The green light meant finishing all of the editing and publishing work on the cookbook. The recipe testing was finished. The narrative for the book collected. What remained were all of the behind the scenes details required to create an actual book. We completed the technical writing of recipe instructions and editing Carol's narrative into a memoir. The interior architecture of the book had to be designed and here the guiding principle of beginnings, middles and ends served us naturally in a cookbook format. The story of the restaurant emerged much like courses in a meal unfold. Design choices had to be made such as font selection and that pesky cover wasn't going to draw itself. As the restaurant had been gone for so many years and the cookbook symbolized the advancement of Mama Cassie's into new territory, we didn't want to use an image of the restaurant itself. Instead we chose to use design elements from the restaurant and taking our inspiration from the pattern of some of the old wall paper we found the central element for the book cover design. Additional photography was needed, including Carol's author picture and more food styled and shot. Finally, the entire book had to be laid out. We used open source software called Scribus. It's pretty awesome and we highly recommend it! Absolutely none of this work would've been possible without Pixel Lab's right hand man, John Osswald. Together we worked diligently around the clock for almost four straight weeks putting all of the final pieces in place.
Our first printing was done by a company in Ohio and the logistics of getting our shipment to Great Falls in time to pack all of the orders in time for the holidays were daunting, to say the least. Fortunately we were able to call on the help of Carol's youngest son, Nicholas Cassie who arranged transport of our goods through the company he works for, C.H. Robinson. We called on Jeff Platisha again to help us distribute our cookbooks to local Kickstarter backers at his showroom and organized a three day pick up event while we packed and shipped all the out of town orders. John, Carol and I sincerely couldn't have gotten through that endeavor without the help of Rod and Dell Clark. We cannot thank them enough for coming to help on day one and sticking with us through all three days of mayhem. In the end we were able to get our orders out to everyone who filled out their dreaded shipping survey by the priority mail delivery date. It was not easy and even entailed a trip to the processing warehouse to retrieve about 15 packages we had discovered were accidentally mailed with insufficient postage. Those orders arrived at their destinations decorated with heart shaped stamps pasted all over them. Rather fitting for The "Food is Love!" Cookbook. We can't say enough wonderful things about the US Postal service in Great Falls, Montana. The mail clerks we dealt with were top notch and supremely helpful!
We sold out of books from the first printing early on the third morning of our distribution event. Having ordered several hundred additional copies beyond our pre-orders, I can't say that I expected to, only that I hoped we would. The overwhelming success of the cookbook and the immediate need for another printing catapulted our work from a one-off project into a viable business. We had resurrected a well loved brand over the course of a year and saw a market develop for future Mama Cassie's products. What started for me as an honest pursuit to be able to have my favorite recipes from Carol has manifested into something much bigger than any of us anticipated. We have secretly been hatching more plans and can't wait to announce the details over the coming months.
From our current vantage point of having just gotten the second printing off the press and into stores both locally and online and beginning to offer the merchandise we developed with Sterling embroidery for retail sale in our is really just the beginning. A very satisfying beginning and one that we are taking a moment to appreciate, especially in light of a multi-page flowchart which makes the amount of work the three of us did seem like a herculean impossibility. We're a great team and pretty unstoppable when we each bring our best to whatever it is we are doing. We've got BIG plans for Mama Cassie's and we know our customer base is going to LOVE them as we do!
P.S. Books may be purchased in our online store at this link
http://mamacassies.com/blog/shop/